For the past ten days, my neighborhood has sounded like a war zone. One that smells of grilled hamburgers and hotdogs and sulfur. There is no doubt in my mind, we as a nation love celebrating our Independence Day.
But how many of us simply see it as a day off? An extended weekend where we can once again return to the enchantment of childhood? Ooo-ing and Ahh-ing like Peanuts characters at the pretty flashes of light in the cloudy night sky in between taking gulps from our Budweisers.
Today, more than any other, I'm reminded of our common beginnings. Whether we came here willing or not, whether we came seeking religious freedom or the promise of a better life, whether we can trace our ancestry to Mayflower or we arrived yesterday, the important message is that we've stayed. And together, we've become one beautiful melting pot of shared and borrowed thoughts and ideas, traditions and cultures.
Our past isn't a glamorous one. But nor should any part of it be forgotten.
This weekend, while browsing Netflix for my next binge-worthy show, I came across a documentary short titled "Ellis". With a tagline that listed Robert De Niro as narrator, I clicked play. Though it's only fourteen minutes in length, it's an incredibly moving piece of what our immigrant ancestors faced upon arrival. I was left in tears at the horrifying beauty of what they experienced. Lives were lost. Families were torn apart. Individuals quarantined. Threats of being returned to the desolate places they had narrowly escaped. But all the hardships and sacrifice was worth the freedom.
What struck me most of all, is how we've seemingly buried our immigrant past beneath a rug. Was this done intentionally? Did we want to forget where we came from as we tried to appear more American than our fellow immigrant neighbors?
Perhaps so.
The fear of German-Americans during World War I. The internment of Japanese-Americans following the bombings of Pearl Harbor. One wants to feel as though they belong. To their families, their friends, their communities, their society. When thick accents, or the color of our skin, or cultural behaviors give us away, it can be easy to conform. To close our hearts to those who now seek asylum from war-torn countries, poverty, starvation, in hopes of a better life. But we must remember: our ancestors were not always considered American.
From 1892 to 1954, Ellis Island welcomed over twelve million immigrants into Lady Liberty's open arms. It's estimated that nearly 40% of current US citizens can trace at least one ancestor to Ellis Island.
Ellis Island closed its doors in 1954. And, for a time, buildings fell into disrepair. In 1965, President Lyndon B. Johnson issued a proclamation which stated that Ellis Island fell under the jurisdiction of the National Park Service as a part of The Statue of Liberty. As such, the Main Arrivals Building was  opened to the public in 1976.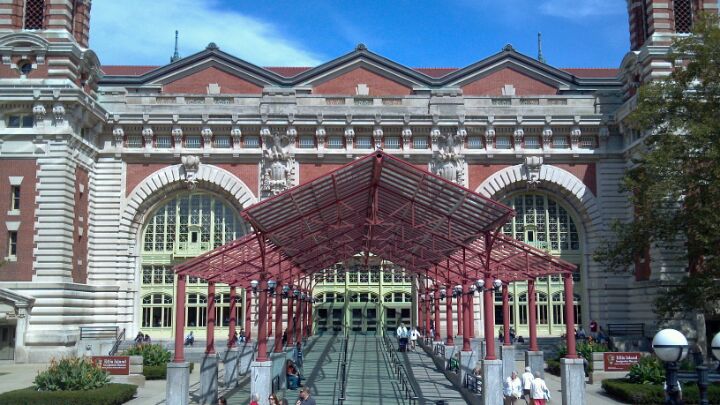 Today, the Ellis Island Hospital Complex waits in ruins. The Save Ellis Island Foundation is trying to change that. Their mission is not only to save the dilapidated buildings, but
"to assure that the values, concepts, discoveries and stories of Ellis Island are reinvigorated and their contributions promoted throughout the country. The story of Ellis Island is the story of America. The Save Ellis Island Foundation will give voice to that story both on the island and throughout America."
They are committed to preserving the national treasure that is Ellis Island. As we all should be.
Consider a donation or membership to the Save Ellis Island Foundation in memory of the possible or known ancestor/s who gave you the life you have today. 
.